Cruise through the incomparable landscapes of Burgundy and enjoy one-of-a-kind culinary experiences along the way: On this all-inclusive gourmet cruise package, you'll be treated to daily special onshore dining experiences (with wine) at selected culinary gems and gourmet venues. This is the perfect cruise for gastronomes and travelers wishing to experience the local culinary hot spots.
This unique concept combines leisure canal barging for one week with onboard accommodations, daily sightseeing and wine outings in the Burgundy wine country, and daily opportunities to enjoy the local gastronomic delights at selected local "auberge" as well as iconic gastronomic restaurant...all included in your cruise fare!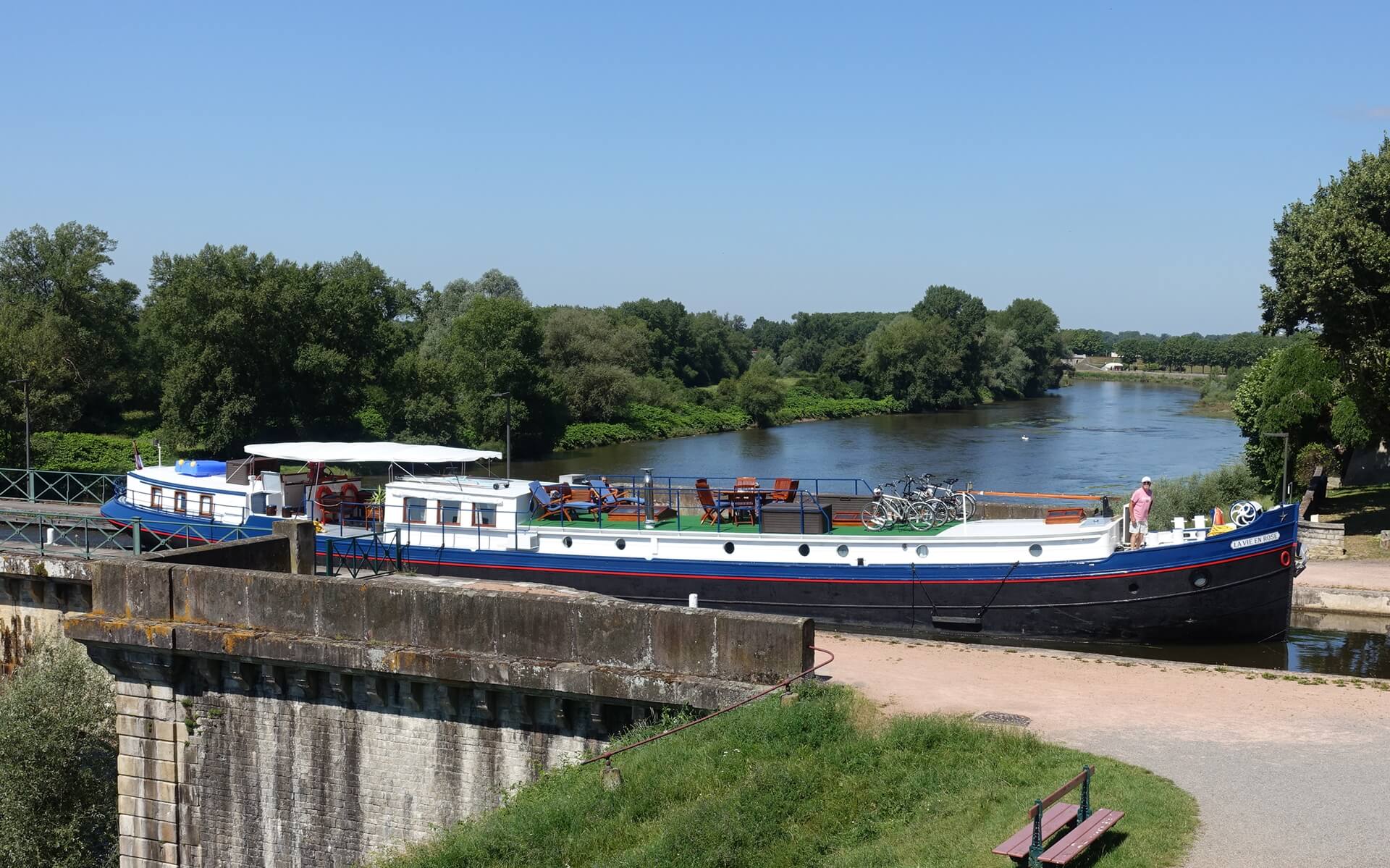 Your "Floating Hotel" -- La Vie En Rose
CRUISE HIGHLIGHTS:
♦ Visit the magnificent XIIe Century fortress of Chateau de Couches, the most complete medieval fortified city in existence
♦ Discover the the wine appellation Maranges while touring the three "Maranges villages" with their charmingly old-fashioned homes of the winemakers
♦ Special invitation at the Château de Rully: The owner himself will give you a tour and treat you to a wine tasting in the old kitchen of the Chateau
♦ Admire and taste the treasures of Southern Côte de Beaune wine country, as you take the famous "Route des Grands Crus"
♦ Enjoy Market Day in Beaune followed by a private tour of the "Hospices de Beaune" and the Hotel Dieu
♦ Experience exclusive wine tastings at the "Patriarche Cellars", the longest cellars in Burgundy, and at the "The Château de Chamirey" in Mercurey
♦ Tour Chalon-sur-Saône with its impressive Cathedral and lively squares
Special daily onshore dining experiences at authentic and hand-picked venues such as:

♦ "L'Ouillette" - Santenay. The Ouillette unveils its simple and rustic setting in the heart of the small town of Santenay. In an atmosphere so typical of Burgundy, both visitors and locals get together with seasonal regional cuisine. The Chef will not hesitate however to serve a few unique dishes. Everything is homemade, from the starters to the desserts ► Visit Website
♦ "Le Cellier Volnaysien" - Volnay. Located in the heart of the Cote de Beaune, this authentic restaurant & wine cellar with a unique selection of local estate-grown wines, welcomes you in a one-of-a-kind setting where you will discover Burgundy's traditional cuisine ► Visit Website
♦ "Le Conty" - Beaune. A wonderful "table" with a pleasant cellar atmosphere and one of the finest terrace in town, run by Chef Laurent Parra from a local gourmet family ► Visit Website
♦ "Le Bouzeron" - Bouzeron. A "not to be missed" table where Chef Ludovic prepares classic French dishes with the finest seasonal products ► Visit Website
♦ "Le Clos Prieur" at the château de Gilly- Gilly Les Citeaux. Get ready for a flavoursome and sophisticated culinary experience, in a setting full of character...You will dine in a superb rib-vaulted room supported by slender pillars which was originally the cellar for the Cistercian monks of Gilly ► Visit Website
♦ "L'auberge des alouettes" - Châtenoy Le Royal ► Visit Website
♦ "Le Mercurey" - Mercurey ► Visit Website
♦ "L'auberge du vieux vigneron" - Corpeau ► Visit Website
♦ "Le Montrachet" - Puligny Montrachet ► Visit Website
♦ "Olivier Leflaive" - Puligny Montrachet ► Visit Website

CLICK HERE for more information!